Presented by: Hong Kong Arts Administrators Association
Acknowledgement: Hong Kong Ballet
About SEE Series
Balancing the elements of a project – time, money, scope and people – is one of the biggest challenges faced by arts administrators. It is difficult to standardise each project into a formula. SEE stands for Share, Explore and Experience. To put things in perspective, different art groups will be invited to share their difficulties encountered and the solutions to tackle the issues with participants. At the same time, participants can also share their thoughts and opinions towards the performance or exhibition. The two-way communication allows participants to further explore and experience the performance/ artwork through the activity, with a final goal to enhance audience appreciation.
This time, we are pleased to invite Hong Kong Ballet to share with us their new Wardrobe Department in San Po Kong. Joanne will show us around and share with us the recent work – Peter Pan! If you would like to learn more about the work of Wardrobe Department, you shouldn't miss out this tour!
About Peter Pan (Asian Premiere)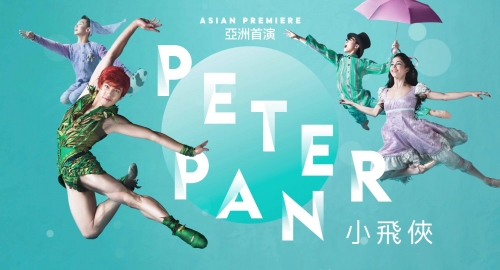 "All children, except one, grow up"

Take a high-flying adventure to Neverland with the Asian premiere of Septime Webre's Peter Pan! Bursting with irresistible freshness and fizz, this new take on J.M. Barrie's classic tale transports you to an island of cheeky pirates, Indian princesses and naughty boys who don't want to grow up. Meet Tinkerbell with her magical pixie dust and Captain Hook pursued by the hungry Crocodile!

Peter Pan features extravagant new costumes by Liz Vandal, whose ALICE (in wonderland) designs wowed Hong Kong audiences last season and won 'Outstanding Costume Design' at the 21st Hong Kong Dance Awards, as well as spectacular new sets by Holly Highfill that bring Neverland to life. With vibrant choreography that combines classical ballet, clever slapstick and a touch of hip hop set to an original sweeping score by Carmon DeLeon and performed live by Hong Kong Sinfonietta, this breath-taking production follows the adventurous Peter Pan through various hijinks with humour and heart. Perfect for the whole family!
Event Details
Date: 3 August 2019 (Sat)
Time: 14:00 – 15:30 (The event takes 90 minutes)
Venue: Wardrobe Department, Hong Kong Ballet(Room B1, 7F, Lead On Industrial Building, 18 Ng Fong Street, San Po Kong)
Meeting time and point: 13:45 | McDonald's, Maxgrand Plaza, Ng Fong Street
Language: Cantonese (No SI Service)
Guest Speaker: Ms Joanne Chong, Director of Wardrobe, Hong Kong Ballet
Quota: 20
Fee: Free of charge

Rundown
14:00 – 15:00 A walk in Wardrobe Department
15:00 – 15:30 Dialogue with Ms Joanne Chong

Remarks
• Participants must be current members/ volunteers of HKAAA. Each participant is welcome to bring along a guest.
• Please fill in the name and email address of your guest on the registration form.
• Only limited quota available. Registration will be processed on a first-come-first-served basis.
• Hong Kong Ballet is the co-organizer of the event.